Canada
Tough decisions await first-place Argonauts as receiving room about to get crowded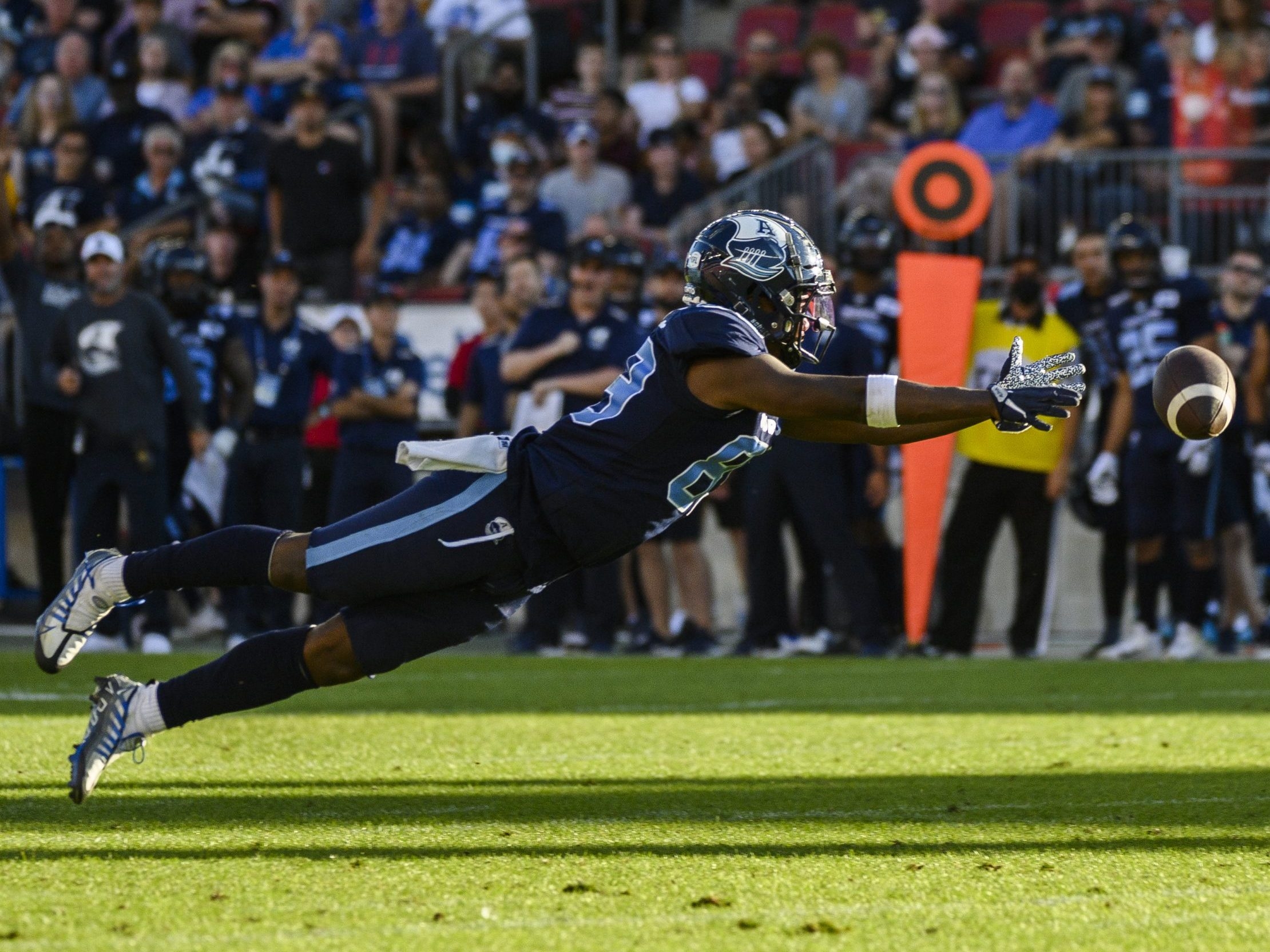 Article content
One of these games, one of these weeks, the Argos will be in a position where they'll have too many receivers for so few spots on the active roster.
Article content
At least for this Saturday night's return visit to Ottawa, no change, barring injury, is expected at any of the receiving slots other than veteran fullback Declan Cross being up following an ankle injury that kept him out of the lineup.
Article content
Cross is no slouch when it applies to catching the ball, but he's not exactly known for being able to run the route tree. His presence is felt along the line of scrimmage when attempting to set an edge.
Article content
And when he does get used in the passing game, Cross is pretty sure handed.
Cam Phillips, who quickly became a revelation when given an opportunity to make plays, is practising and poised to come off the six-game injured list. If you recall, Phillips hurt his groin during the pre-game warmups in Hamilton on Aug. 12.
Article content
Prior to his setback, Phillips was playing at a high level.
Eric Rogers, who is among the best options in the red zone, is also close to returning.
Rogers has appeared in only seven games as an Argo since he first dressed for the Double Blue in 2021. A hamstring injury limited Rogers in his first season in Toronto, while a groin setback in 2022 put him back on the shelf in his first and only game of the season.
Both are physical receivers, long and athletic, body types that are ideal when trying to establish an aerial game.
"It's a good problem to have,'' admitted head coach Ryan Dinwiddie when it was pointed out how the Argos will soon have an abundance of pass catchers at their disposal. "There'll be some tough discussion over the next few weeks."
Article content
On the surface, the Argos will be in an enviable position, but then comes the matter of managing egos and a roster that best suits their needs at the receiver position.
As it currently stands, and so much will be injury dependent, the toughest decision involves Brandon Banks and what to do with the veteran if he becomes the odd-man out in the rotation. Banks isn't built to block given his size.
While his chemistry with quarterback McLeod Bethel-Thompson remains a work in progress, far too many missed opportunities have played out, especially on deep balls.
Banks scored two touchdowns in the Labour Day Classic when he helped the Argos beat his former team for the third time this season.
The first came on a run when the whole scheme was designed to emulate the same play the Eagles executed in their upset over New England in the Super Bowl, a play dubbed the Philly Special. Banks' second major in the Hammer came on a reception.
Article content
At this stage in his career, he's not better than Phillips and a case can be made that he's not better than Damonte Coxie, another big, physical receiver who has a burst, which he showed two weeks ago when the Argos defeated the host Redblacks 24-19.
Markeith Ambles is another big, physical receiver who can block and make plays after the catch.
Toronto's two best receivers are DaVaris Daniels and Kurleigh Gittens Jr., though Phillips is not that far behind. In fact, some will argue Phillips is Toronto's best.
Either way, the Argos will soon have a nice problem on their hand.
HAPPY RETURNS FOR HAYDEL
Dinwiddie is sticking with Jeremiah Haydel as the team's primary returner heading into Ottawa.
Javon Leake, who began the season as the primary returner, isn't quite ready to return.
Article content
Haydel hasn't made any of those game-changing, field-flipping plays, but at the same time he has secured the football.
In terms of return priorities, ball security ranks at the top.
Against the Redblacks, Haydel averaged 11.0 yards on five punt returns, 21.5 yards on two kickoff returns.
He made his debut on Labour Day.
KEEPING AN EYE ON NATE
When Ottawa visited BMO Field on July 31 and recorded its first win of the season, the team's offensive catalyst was receiver Jaelon Acklin.
Caleb Evans was just as good at the quarterback position.
It was Acklin who lit up Toronto's secondary by producing 144 receiving yards.
In Ottawa's home loss, the Argos held Acklin to 62 yards on five receptions.
His longest gain was 18 yards.
Article content
One player the Argos failed to control in Ottawa was Nate Behar, who had six receptions for a team-high 76 yards, which included 42 yards after the catch.
"When the ball is in his hands he's a north-south runner,'' said Dinwiddie of Behar.
A five-year CFL veteran, Behar is having a career season with the Redblacks.
The Carleton product enters the week having caught 50 passes for 608 yards, while recording two TDs.
"We have to tackle better and keep him in front of us,'' added Dinwiddie when discussing the keys in limiting Behar following a reception.
FOUR THE RECORD
Had MBT been able to hook up with Gittens Jr. on a deep heave from the shadow of Toronto's end zone late in the fourth quarter, he would have recorded his second-career passing game of 400 yards.
The pass fell incomplete when MBT overthrew a wide open Gittens Jr.
Still, the QB known as Mac did throw for a season-high 365 yards in Toronto's win to improve his personal record to 7-1 in starts against Ottawa.
During that stretch, he has posted five 300-yard passing efforts.